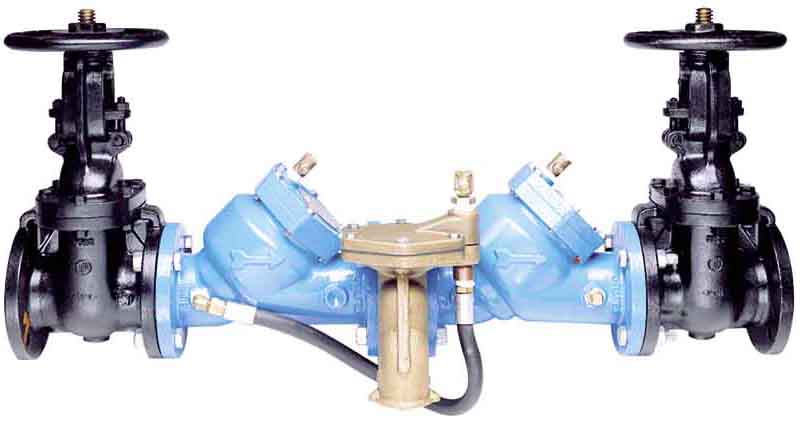 Why a Backflow Prevention Program is Important for New Orleans
The Louisiana Department of Health and the EPA have required property owners to take measures to manage cross-connections and prevent backflow (more on these terms below) wherever possible. This is in line with national best practices. As New Orleans' water utility, SWBNO is obligated to ensure compliance with these regulations to protect the city's drinking water. SWBNO will begin enforcing compliance to safeguard against backflow and to encourage participation among those who did not take the opportunity on their own to better protect our shared drinking water system. With the launch of this program, We want to help property owners reach compliance by raising awareness, educating them about the benefits of this program and ensuring they understand the risks and consequences of not addressing any existing cross-connections. We all can play a part in keeping New Orleans safe and healthy.
This page will explain the terminology, the risks, and the enforcement measures we are taking.
What is Backflow?
Backflow = the flow of water, liquids, substances or mixtures into the pipes of a water distribution system from any source other than the intended treated water source. In other words, it is unclean water or some other liquid flowing the wrong way back into the drinking system.
Types of Backflow
Back-siphonage = pressure in a water system drops and pulls outside potential contaminants into the water supply.
Backpressure = the pressure in an unprotected downstream pipe system is greater than the pressure in the water supply system and and forces outside potential contaminants into the water supply. (Think: pressurized tanker truck).
Cross-Connections can lead to Backflow
Cross-Connection = The physical connection between a drinking water supply and a non-potable source. For example:
How Backflow Happens
Backflow can occur when pressure drops in the public water distribution system, exposing it to back-siphonage or backpressure.
Prevention Techniques
Larger properties, especially commercial businesses that mix water with other substances, such as soap for a carwash or syrup in a soda machine, can install backflow preventers. Some examples are shown below.
Another simple technique is to create an air gap between the source water and the non-potable water. A good example is don't submerge your hose when filling a pool.
Our Program Goals
Establish proper policies and procedures to implement the program. (est. completion February 2020)
Survey the city, create a database of cross-connections. (start March 2020; est completion in 2022)
Immediately address any clear and present backflow threats to our water supply. (coincides with survey work)
Teach our customers what they can do to mitigate or eliminate cross-connections. (public outreach campaign underway, will be perpetual)
Enforce state and federal regulations. (perpetual, once program is established)
What to Expect from City-wide Survey Efforts
SWBNO's objective is to locate all cross-connection locations in the city to mitigate any and all risks of backflow into the water distribution systems.
First, SWBNO will prioritize properties most likely to experience backflow conditions. Here are some examples of common sites:
Carwashes
Restaurants
Laundromats
Irrigation Systems
Next, surveyors will begin street-level canvassing. This effort will start in several area simultaneously and touch every neighborhood in New Orleans until effort is complete. Our surveying team will also examine satellite maps for evidence of potential cross-connections.
How We will Enforce the Program
Grace Period during City Survey
As we identify potential backflow risks, we will alert our customers and provide them with the options and opportunity to comply with state regulations. Our mission is to help everyone do their part to keep our collective drinking water safe.
We will be enforcing all known issues as we find them. However, SWBNO will work with the customer to come up with a plan of action to avoid penalties.
Testable Backflow Preventers
Program will uniformly apply our policy that all testable backflow preventers be checked every year. The fees collected from these annual tests will fund the program's enhanced protection of our water supply.
Testable backflow preventers typically apply to larger water apparatus, such as fire sprinklers, cooling towers, hospital equipment, processing tanks, commercial food cookers, etc.
Fines and/or heightened health risk
Not addressing sites where backflow can occur puts all of us at a heightened risk for contaminants to enter the water supply. That is why penalties from the Louisiana Department of Health for failure to comply can be as high as $3,000 a day.